Get a B2B customer to receive advantages
Pay on invoice
easy and simple order-process
fast delivery
personal consulting
01
- OUR NEODYMIUM MAGNET STRIPES ARE ABLE TO
Flexible Allrounders
super-strong
super strong adhesion of
415 g/cm²
Elastic & flexible
just cut it with a cutter
or solid scissor
Simple handling
quick and easy attachable
self-adhesive backside
multiple missions
For display and lock-technology,
photos, signs or mosaics
Neodymium magnet stripes at work
Operational Area: Office
Neodymium-Magnets are perfect for every mission in the office.
Organisation is everything - especially in the office or home-office. Using our neodymium magnetic stripes you can simply just fix all metal items to their place where they belong. It doesn't matter if it is a wall, the ceiling, furnitures or doors.
Mission: Kitchen
In the kitchen, there are a lot of things we need permanently and always reachable when preparing a meal
Our magnetic stripes are perfect with its self adhesive backside to stick on walls or your kitchen furniture. So you can keep your cooking tools always reachable and simply take and reattach at the magnetic stripe
Mission: Work shop
Neodymium magnetic stipes get their full strength in the work shop.
Perfekter grip for your tools and metallic items in your workshop or private garage. Just stick the self adhesive side the neodymium stripe to the wall, now you can attach all of the tools at your wall. This saves space
03
- Advantage of Neodymium stripes
The great difference of neodymium stripes and Ferrit-based stripes
4x stronger than Ferrit
Neodymium: adhesion 415 g/cm²
more simple handling
easy to cut
everlasting magnets
Neodymium never looses its magnetic power
04
- NEODYMIUM MAGNET STRIPES IN REVIEWS
Customers Review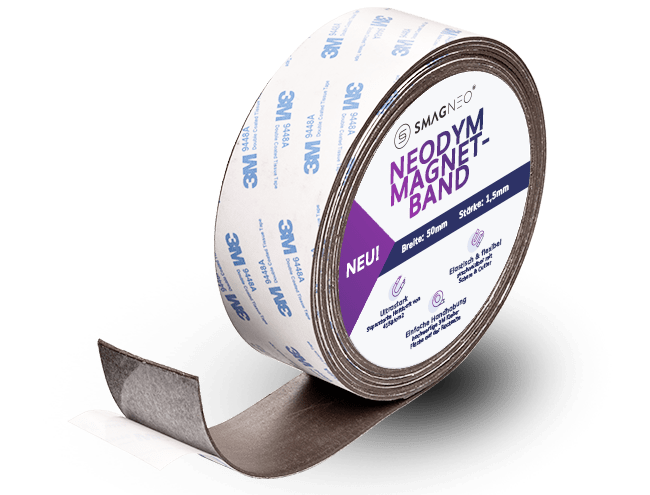 05
- NEODYMIUM MAGNET STRIPES AT SMAGNEO®
Neodymium Magnet Stripes: best powered and flexible magnetics for home and commercial usage
Using Neodymium Magnet Stripes you are able to attach non magnetic items to metal items simply. This is possible due to the neodymium-bor-alloy, that is normaly used for neodymium super-magnets. Our innovative Neodymium magnet stripes have a 4 times higher performance than previous magnetic stripes. Our power Magnet Stripes are elastic and flexible. They have a self adhesive backside and are available in different length. The magnetic stripes can be easyly cut into several pieces or the length that is needed by using a solid scissor.
What is neodymium?
Neodymium is a metal classed as a "rare earth". Combined with an alloy it gets an extremly magnetic power. Today, the in 1982 invented Neodymium magnets are the strongest avialable everlasting magnets. It can be used in all situations where high power is needed. Due to their low weight and high temperature resistance until 250° celsius there occure a lot of applications. Neodymium magnets can be strongly miniaturized, so it makes sense to use them in space-saving circumstances. An other advantage of neodymium magnets is the everlasting magnetic power. It wont loose its magnetic power anytime.
Endless possibilities for neodymium magnet stripes
Neodymium magnet stripes bring non magnetic items together and keep the connection always strong and static. Due to their excellent properties, there are a lot of possibilities for home usage or commercial usage. Tune presents by sticking decor-elements onto it. Stick your favorite photos invisible to walls or other surfaces. Use our stripes as a flexible holding mount in the kitchen or at the garage. Safely store your knifes and scissors out of the reach of your childeren, or even attach your cooking tools always within reach at cooking. At your garage or workroom, you'll get your drills, tongs or other metal items always sorted at their place. Our neodymium magnetic stripes are also perfect for fixing a loose door of a shower or for attaching fly-screens at your windows.
Neodymium magnet stripes can be attached to all surfaces, but they are not a good surface for other magnets. Please store your magnetic stripes always at a normal room temperature